Looking to drive growth and strengthen your Google presence?
We deliver actual SEO results or we work for free
Other SEO agencies make empty promises, we deliver actual SEO results (or we work for free until we do).
*Get a free Growth Strategy Session from a leading Search Marketing expert.
Approximately 3.8 million searches are made every minute around the world…
As far as search engines go, Google has around 96.37% market share in Australia. Just about everyone you know uses Google daily to search for what they are looking for, and like the people you know, so do your potential customers. When SEO is done correctly by experts, your website will be found up the top of Google in the free organic listings when your future customers are searching, making sure you get a nice slice of that traffic pie.
Our team takes pride in our SEO experience and the calibre of experts on our team. With over a decade of experience under the belt of every technical specialist working on your campaign, you can be sure your business growth is in the best and most capable hands.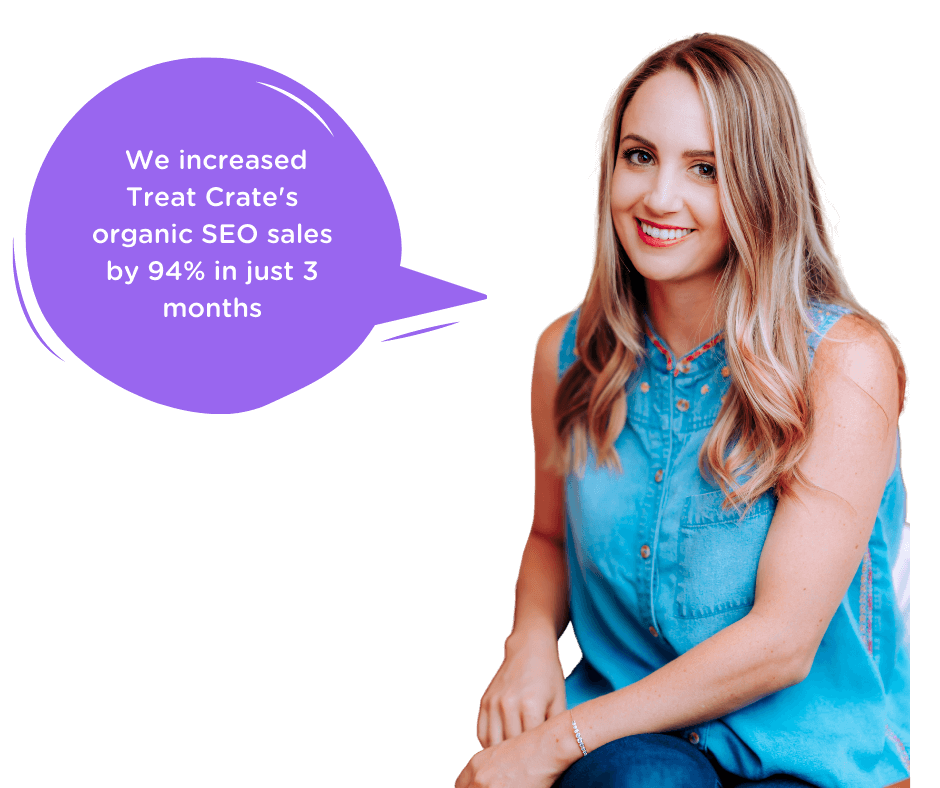 Rank for relevant queries to your brand and take on your market rivals
The first and most crucial step of a winning SEO campaign is identifying the right keywords to rank your website for. This process involves assessing your current search engine visibility, building on what is there, and finding new opportunities to tap into. Our team nerd out on market data and take your keyword strategy seriously; your campaign keywords will be based on market research to ensure the best results and long-term growth.
Your campaign will be customised according to your goals; we never have, and never will, offer a cookie-cutter one size fits all approach.
Once we have established the best keyword strategy and planned out the work required to get those Google searchers visiting your website, it is time to start optimising your website to ensure we can get you found.
When it comes to optimising your website for the best results, what you need is a top SEO who specialises in the field. Working with us, you'll get the experience you need and the security of KPIs to ensure we'll go hard to achieve your search goals.
They don't provide reports often enough. We ensure you can access your campaign results live 24/7
Save time on communication and stay in the know with GrowthHub™
GrowthHub™ is our powerful technology platform giving you 24/7 campaign performance insights in real-time. Our platform provides you with greater transparency and visibility. If you want to know how much traffic you're generating, lead conversions, sales and rankings at any time, GrowthHub™ is the answer.
Most agencies provide a simple monthly report and often you need to send lots of emails and check in on progress, not anymore. GrowthHub™ is your answer to complete visibility over your campaign.
Automated campaign reporting so you can access your live campaign results any time you like without having to send email check-ins or constantly follow-up.
24/7 real time insights so you never feel in the dark about campaign progress. You'll have 24/7 visibility of campaign rankings, traffic, sales and leads.
Normally with other marketers you spend a lot of time sending emails or calling to check up on the latest campaign results. GrowthHub™ eliminates this communication time, you can login 24/7 and see exactly how things are going.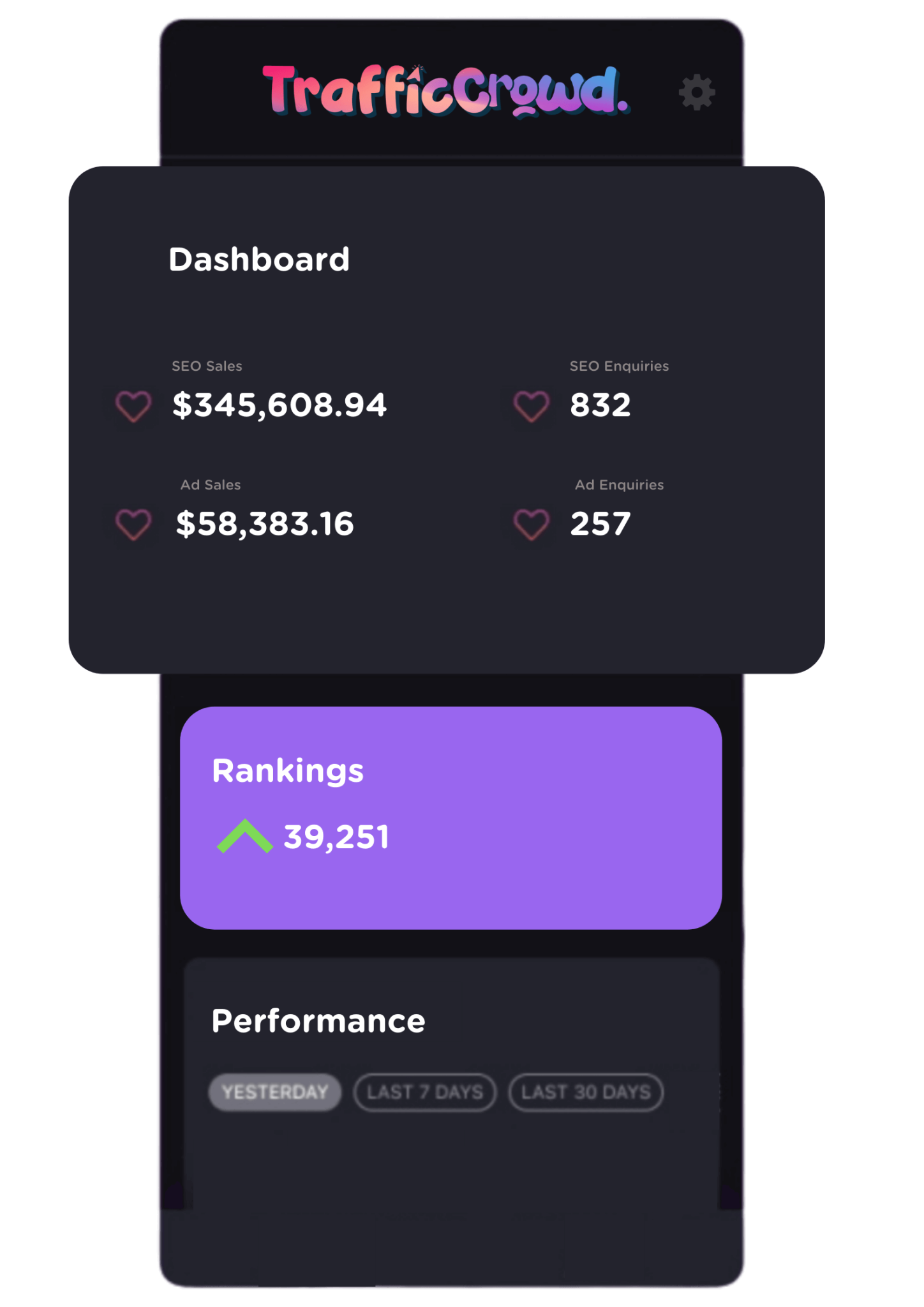 Forget sifting through many different email reports for different campaigns. You'll find all of the search engine campaigns we manage within a simple to follow dashboard.
We believe transparency is important, this is exactly why GrowthHub™ exists, so you will always be in the know when it comes to your search engine results.
Cut down on time spent reporting results back to your Director or the team you look after by allowing them access. You can have multiple users at no extra cost.
Just a few examples of brand results
The proof is in the pudding
What makes TrafficCrowd™ different?

From day one; we listen to what you need, dig through data to identify the best campaign strategy to deliver results, and wrap your campaign plan around this.
We believe you deserve accountability, this is why we set traffic/ sales KPIs (no wishy-washy meaningless page 1 ranking guarantees here).
Differentiated by our experience, data-driven approach and specialisation in all things Google marketing. We laser focus on being the best at Google marketing and optimising your conversions.

Transparency is precisely what you get with our GrowthHub™ technology. GrowthHub™ gives you 24/7 campaign insights.

We are a crew of Australia's leading marketing experts with over a decade of experience under the belt of every technical specialist working on your campaign.

Results or we will work for free
We move mountains to exceed your performance milestones, and if by some chance we miss one within a certain amount of time, we'll work for free until we hit your campaign sales/ traffic KPIs. 

We are Google specialists; we aren't an agency that offers ten services and does a sub-par job across all (AKA jack of all trades, master of none). We are experts in one key area; Google marketing and website conversions.

From day one, we invest time in proper market research and dig through market data to ensure your campaign is set up for success. Every single campaign is customised. We never have, and never will, offer a cookie-cutter one size fits all approach.
Who is TrafficCrowd ™ for?
Just a few brands we have worked with
TrafficCrowd™ customers are typically accomplished founders, business leaders, or marketers responsible for growing brands. You're the perfect fit for us if you're serious about long-term growth strategies and believe in investing in marketing backed by solid marketing performance KPI milestones.
Short answers to specific questions
Frequently asked questions.
Alternative growth solutions

Google Ads
Our expert team will use their leading Google Ads experience to quickly deliver you results. We'll get you in front of the right people fast and deliver website visitors who are looking for a solution just like yours.

CRO
Our Conversion Optimisation team will enhance your website to increase your conversion rate. Delivering you more growth out of existing website visitors.