Looking to drive search engine growth?
Performance Marketing agency Sydney
*Get a free Growth Strategy Session from a leading Search Marketing expert.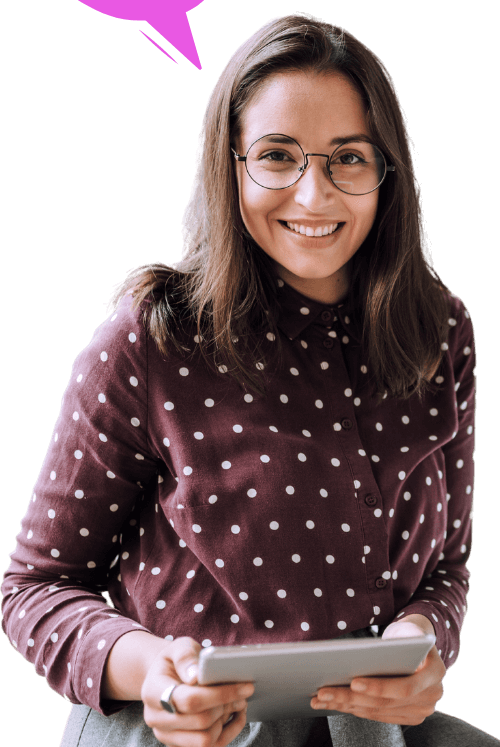 Performance Marketing campaigns for growing brands
You're likely here because you know Google Ads, SEO and digital marketing are essential for your growth. But, you either don't know where to start or you haven't achieved the desired Search Marketing results in the past. Many search marketers come and go, but our performance-based search agency team has been in search engine marketing for over a decade. We're here to offer you a better service and a different approach. Measurable growth, leads and sales are at the core of all we do. Better yet, we have performance KPIs in place focused on sales and/ or leads, meaning we get results or work for free.
They don't provide reports often enough. We ensure you can access your Performance Marketing campaign results live 24/7
Stay in the know with your Performance Marketing GrowthHub™
GrowthHub™ is our powerful technology platform giving you 24/7 Performance Marketing campaign performance insights in real-time. Our platform provides you with greater transparency and visibility. If you want to know how much traffic you're generating, lead conversions, sales and rankings at any time, GrowthHub™ is the answer.
Most agencies provide a simple monthly report and often you need to send lots of emails and check in on progress, not anymore. GrowthHub™ is your answer to complete visibility over your Search Marketing campaigns.
Automated Performance Marketing campaign reporting so you can access your live campaign results any time you like without having to send email check-ins or constantly follow-up.
24/7 real time insights so you never feel in the dark about campaign progress. You'll have 24/7 visibility of campaign rankings, traffic, sales and leads.
Normally with other marketers you spend a lot of time sending emails or calling to check up on the latest campaign results. GrowthHub™ eliminates this communication time, you can login 24/7 and see exactly how things are going.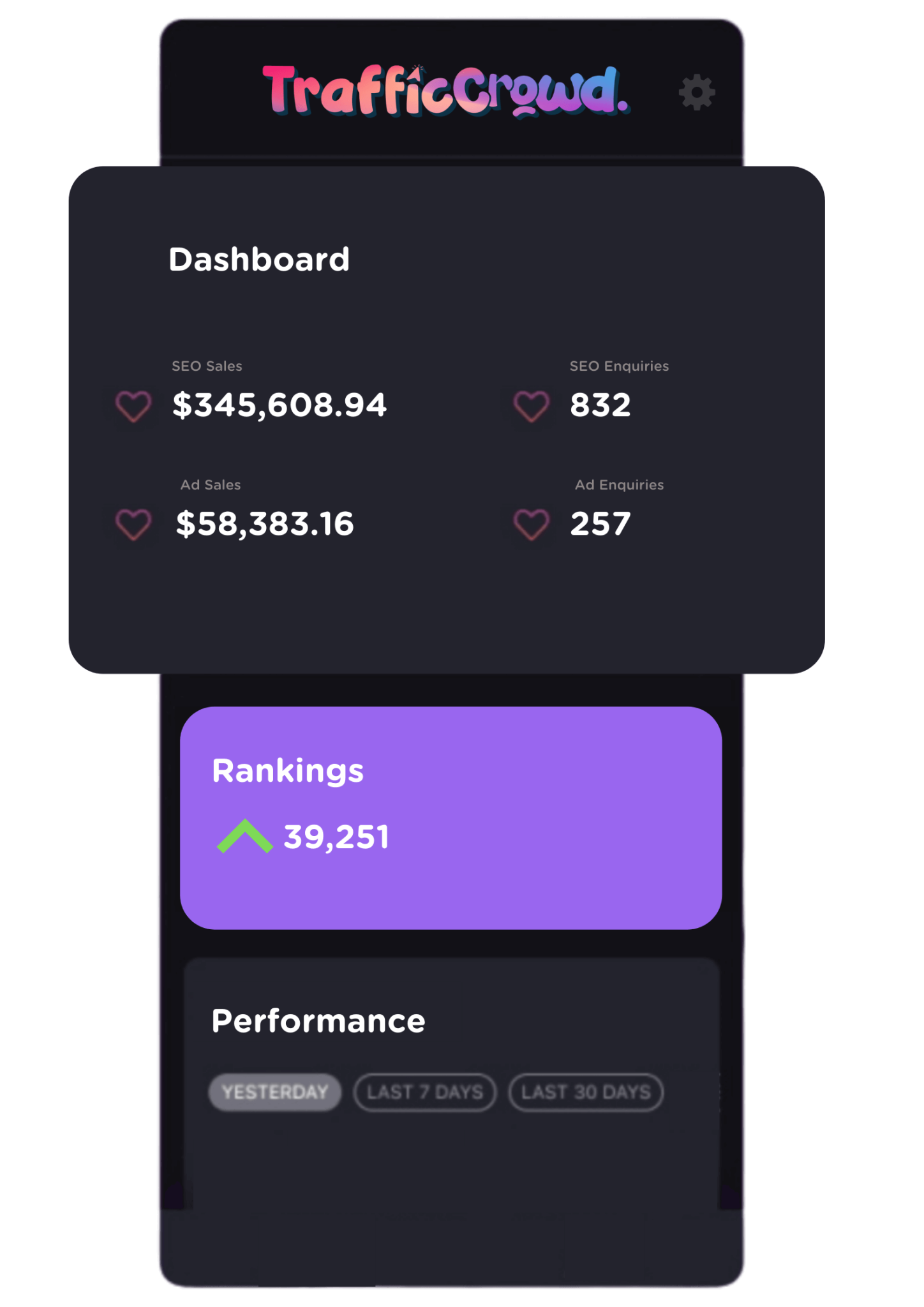 Forget sifting through many different email reports for different campaigns. You'll find all of the campaigns we manage within a simple to follow dashboard.
We believe transparency is important, this is exactly why GrowthHub™ exists, so you will always be in the know when it comes to your search engine results.
Cut down on time spent reporting results back to your Director or the team you look after by allowing them access. You can have multiple users at no extra cost.
Just a few examples of our Performance Marketing results
The proof is in the pudding
What makes theTrafficCrowd™ Performance Marketing agency different?

We listen to what you need from day one. We dig through data to identify the best campaign approach to deliver you the best results, and wrap your Performance Marketing campaign plan around this.
We believe you deserve accountability from your marketing agency, and this is why we set traffic/ sales KPIs, if we don't hit them, we'll work for free.
We are a specialistPerformance Marketing agency differentiated by our experience, data-driven approach and specialisation in Google Marketing. We laser focus on being the best at Google Marketing and optimising your conversions.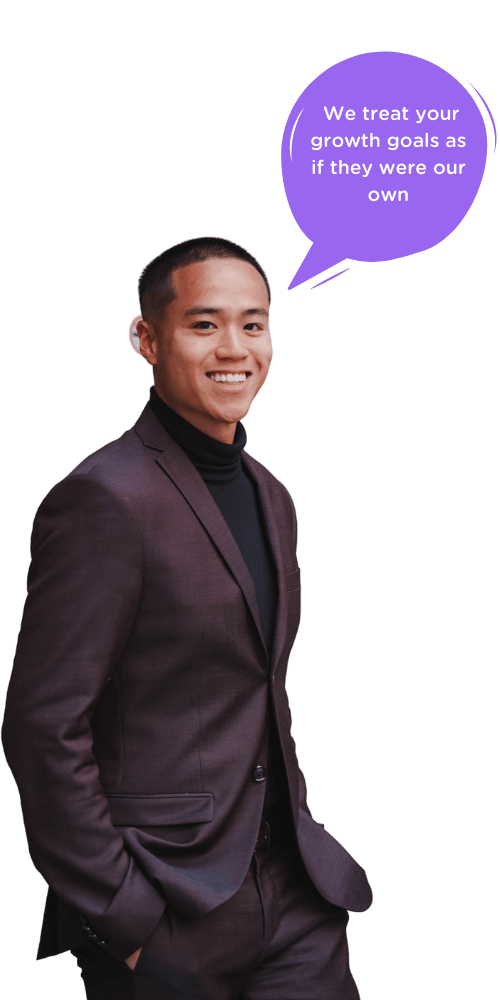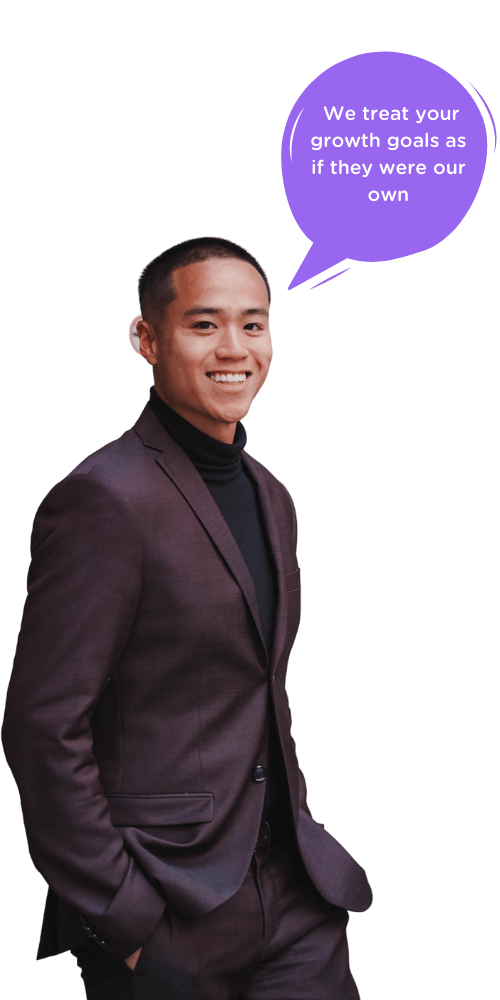 Transparency is precisely what you get with our GrowthHub™ technology. GrowthHub™ gives you 24/7 Performance Marketing campaign insights.

We are a crew of Australia's leading digital Performance Marketing experts with over a decade of experience under the belt of every technical specialist working on your campaign. None of our work is outsourced overseas, we are an Australian-owned local Search Marketing agency.

Results or we will work for free
We move mountains to exceed your performance KPI milestones, and if by some chance we miss one within a certain amount of time, we'll work for free until we hit your Performance Marketing campaign KPIs.

Specialist Performance Marketing team
We are Performance Marketing experts; we aren't an agency that offers ten services and does a sub-par job across all ( AKA jack of all trades, master of none). We are experts in one key area; Google Marketing and increasing website conversions.

From day one, we invest time in proper market research and dig through market data to ensure your Performance Marketing campaign is set up for success. Every single campaign is customised. We never have, and never will, offer a cookie-cutter one size fits all approach.
Who are TrafficCrowd ™ Performance Marketing services for?
Just a few brands we have worked with
TrafficCrowd™ customers are typically accomplished founders, business leaders, or marketers responsible for growing brands. You're the perfect fit for our specialist Performance Marketing agency if you're serious about long-term growth strategies and believe in investing in marketing backed by solid marketing performance KPI milestones.
Add your heading text here
Explore our knowledge centre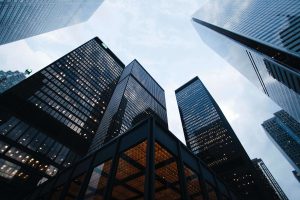 Corporate SEO *Get a free Growth Strategy Session from leading corporate SEO experts. Corporate SEO"> Think of corporate SEO as the perfect marriage between art
READ MORE »
Short answers to specific Search Marketing questions
Frequently asked Performance Marketing questions